Moreno Valley Police, Fire, City Officials Bring Fathers Day Cheer to Seniors
For immediate release: June 20, 2020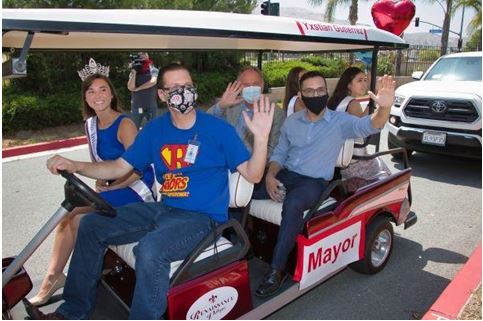 Moreno Valley Police and Fire deployed some vehicles for a very important assignment this Fathers Day weekend: to bring best wishes to residents of Renaissance Village senior living facility.
Because of the continuing risk of spread of coronavirus, they've had to do without visitors, so Mayor Yxstian Gutierrez, officers and firefighters decided to let them know via a parade of vehicles that the community wishes all the residents -- and especially the fathers -- the very best on this Fathers Day weekend.
"It's a heartfelt token of our esteem," said Mayor Gutierrez. "Nothing can substitute for the closeness of family and friends, but we just want our seniors here at Renaissance and across our City to know they're in our thoughts this Fathers Day."
The parade of City officials and vehicles, similar to one arranged for Mothers Day weekend, was joined by some Renaissance residents' family members and other community well-wishers.
---
La Policía, Los Bomberos, y Los Oficiales de la Ciudad Entregaron un Poco de Alegría para el Día de los Padres a las Personas Mayores

La Policía y los Bomberos de Moreno Valley desplegaron algunos vehículos para una misión muy importante este fin de semana del Día del Padre: traer los mejores deseos a los residentes de la residencia para personas de la tercera edad de Renaissance Village.
Debido al riesgo continuo de transmisión del coronavirus, han tenido que cancelar la entrada de visitantes, así que el Alcalde Yxstian Gutiérrez, la policía y los bomberos decidieron hacerles saber a través de un desfile de vehículos que la comunidad desea a todos los residentes, y especialmente a los padres, lo mejor en este fin de semana del Día del Padre.
"Es una muestra sincera de nuestra aprecio," dijo el Alcalde Gutiérrez. "Nada puede reemplazar la cercanía de la familia y los amigos, pero solo queremos que nuestros mayores aquí en Renaissance Village y en toda nuestra ciudad sepan que están en nuestros pensamientos este Día del Padre."
El desfile de los oficiales y vehículos de la ciudad, similar al que fue organizado para el fin de semana del Día de las Madres, se unieron junto algunos familiares de los residentes de Renaissance y otros residentes de la comunidad que quisieron dar sus saludos.
# # #
Upon request, this news release will be made available in appropriate alternative formats to persons with disabilities, in compliance with the Americans with Disabilities Act of 1990. Any person with a disability who requires a modification or accommodation in order to participate in this meeting should direct such requests to Guy Pegan, ADA Coordinator, at 951.413.3120 at least 72 hours before the meeting. The 72-hour notification will enable the City to make reasonable arrangements to ensure accessibility to this meeting.