Moreno Valley Residents Invited to Show Their Patriotic Spirit in Fun 4th of July Contests
For immediate release: June 18, 2020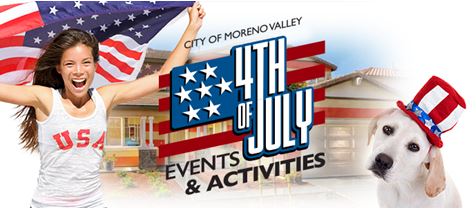 n what could become new Moreno Valley traditions, the City is inviting residents to share their patriotic 4th of July spirit by taking part in some super fun holiday contests.
"There's something fun for just about everyone in these events," said Dr. Yxstian Gutierrez, Mayor of Moreno Valley. "We can't wait to see how creative the residents of MoVal can be!"
The United We Stand Home Decorating Contest features prizes in the "Best Use of Theme," "Most Patriotic," "Most Creative" and "People's Choice" categories. Winner of the People's Choice category receives a gift card for a family dining experience at Black Bear Diner. All other category winners receive a special "Summer Picnic in a Basket" filled with prizes and activities for a fun-filled family day, and a custom yard sign to help you boast about your win. Enter through July 1.
The United We Stand Virtual 6k Run/Walk invites residents to don their patriotic gear and complete a 6k run/walk, or a hike up Terri Peak. Record your time on any exercise app, screenshot your total distance and finish time, take photos along the walk/hike/run and post with the hashtags #MOVALPARKS #MOVAL6K to be eligible for prizes and medals. Enter July 4-10.
Pets take center stage in the Star Spangled Pets Virtual Pet Costume Contest. This crazy event features prizes in the categories of "Pet/Owner Lookalike," "Most Patriotic," "Most Handsome," "Most Beautiful" and, of course, "Funniest." Enter June 22-29.
Have a special talent to share? The "MoVal's Got Talent Virtual Talent Show" is your chance to shine. But there's a one-minute time limit, so plan accordingly. Enter June 22-29.
Entry and judging rules and procedures for all these fun events are available on the City's website at www.moval.org/fourth. Entry deadlines vary by event, so enter soon!
This 4th of July, here's looking at you, MoVal!
---
Los residentes de Moreno Valley están Invitados a Mostrar su Espíritu Patriótico en unos Concursos Divertidos del 4 de julio

En lo que podría convertirse en nuevas tradiciones de Moreno Valley, la Ciudad está invitando a los residentes a compartir su espíritu patriótico del 4 de julio participando en algunos concursos festivos súper divertidos.
"Hay algo divertido para todos en estos eventos", dijo el Dr. Yxstian Gutiérrez, Alcalde de Moreno Valley. "¡Estamos ansiosos por ver lo creativos que pueden ser los residentes de MoVal!"
El concurso "United We Stand Home Decorating" ofrece premios en las categorías "Mejor uso del tema", "Más patriótico", "Más creativo" y "Elección popular". El ganador de la categoría Elección popular recibe una tarjeta de regalo para una cena familiar en Black Bear Diner. Todos los demás ganadores de las otras categorías recibirán una canasta especial que incluye premios y actividades para un día divertido familiar, y un letrero de patio personalizado para ayudarle a presumir de su victoria. Ingrese hasta el 1 de julio.
El "United We Stand Virtual 6k Run/Walk" invita a los residentes a ponerse su equipo patriótico y completar una carrera / caminata de 6k o una caminata por Terri Peak. Registre su tiempo en cualquier aplicación de ejercicio, capture su distancia total y el tiempo de finalización, tome fotos a lo largo de la caminata / excursión / carrera y publique con las etiquetas #MOVALPARKS # MOVAL6K para ser elegible para premios y medallas. Ingrese del 4 al 10 de julio.
Las mascotas ocupan el centro de la escena en el concurso virtual de disfraces de mascotas "Star Spangled Pets". Este evento loco presenta premios en las categorías de "Mascota / Propietario similar", "Más patriótico", "Más guapo", "Más hermoso" y, por supuesto, "Más divertido". Entre el 22 y el 29 de junio.
¿Tienes un talento especial para compartir? El programa de "Talento Virtual Got Talent de MoVal" es tu oportunidad de brillar. Pero hay un límite de tiempo de un minuto, así que planee en consecuencia. Entre el 22 y el 29 de junio.
Las reglas y procedimientos de entrada y evaluación para todos estos eventos divertidos están disponibles en el sitio web de la Ciudad en www.moval.org/fourth. Los plazos de inscripción varían según el evento, ¡así que ingrese pronto!
¡Este 4 de julio, te estamos mirando, MoVal!
# # #
Upon request, this news release will be made available in appropriate alternative formats to persons with disabilities, in compliance with the Americans with Disabilities Act of 1990. Any person with a disability who requires a modification or accommodation in order to participate in this meeting should direct such requests to Guy Pegan, ADA Coordinator, at 951.413.3120 at least 72 hours before the meeting. The 72-hour notification will enable the City to make reasonable arrangements to ensure accessibility to this meeting.