Coronavirus Testing Site Open in Moreno Valley
Residents Encouraged to be Screened
For immediate release: May 30, 2020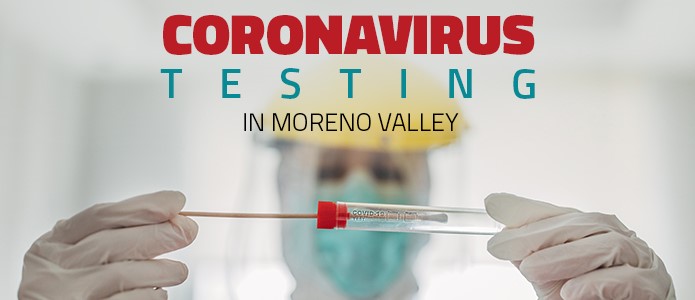 Moreno Valley residents are strongly encouraged to make use of the Riverside County Public Health coronavirus testing site in Moreno Valley. It's located at CrossWord Christian Church, 21401 Box Springs Road, and is open Monday - Friday, 8 a.m. to 4 p.m. Testing at the county-run site is open to anyone, regardless of symptoms, and is free, but you must call and make an appointment: 1-800-945-6171.
Young adults and teenagers age 25 and under are especially encouraged to be tested as that age group has been under-represented among the Riverside County residents screened so far. Minors must be accompanied by a parent or legal guardian.
"I'm urging all residents to take advantage of this opportunity to be tested for coronavirus," said Dr. Yxstian Gutierrez, Mayor of Moreno Valley, "both to guard their own health and to help health professionals learn where the virus is spreading."
---
Sitio De Prueba de Coronavirus Abierto en MoVal
Se Recomienda Que Todos Los Residentes Sean Examinados
Se recomienda a los residentes de Moreno Valley que utilicen el sitio de pruebas de coronavirus de Salud Pública del Condado de Riverside en Moreno Valley. Está ubicado en Iglesia Cristiana CrossWord, 21401 Box Springs Road, y está abierto de lunes a viernes de 8 a.m. a 4 p.m. Las pruebas en el sitio administrado por el condado están abiertas a cualquier persona, independientemente de los síntomas, y son gratis, pero debe llamar y hacer una cita: 1-800-945-6171.
Se les pide especialmente a los adultos jóvenes y adolescentes de 25 años o menos a hacerse la prueba, ya que ese grupo de edad es el que menos está representado entre los residentes del Condado de Riverside examinados hasta ahora. Los menores deben estar acompañados por un padre o guardián legal.
"Les pido a todos los residentes a aprovechar esta oportunidad para hacerse la prueba del coronavirus," dijo el Dr. Yxstian Gutiérrez, Alcalde de Moreno Valley, "tanto para proteger su propia salud como para ayudar a los profesionales de la salud a saber dónde se está propagando el virus."
# # #
Upon request, this news release will be made available in appropriate alternative formats to persons with disabilities, in compliance with the Americans with Disabilities Act of 1990. Any person with a disability who requires a modification or accommodation in order to participate in this meeting should direct such requests to Guy Pegan, ADA Coordinator, at 951.413.3120 at least 72 hours before the meeting. The 72-hour notification will enable the City to make reasonable arrangements to ensure accessibility to this meeting.