MoVal Business Generously Donates Money to MoVal Meals, KN95 Masks to City
Seniors, Disabled and First Responders to Benefit
For immediate release: May 12, 2020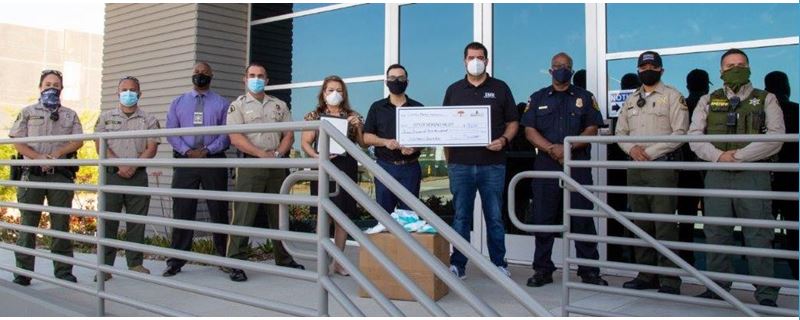 When Mayor Yxstian Gutierrez invited local businesses to think about ways they could help support the MoVal community during the coronavirus crisis, Ryan Bartlett immediately stepped forward. Bartlett, the President and CEO of United Material Handling, Inc. (UMH), donated $3,200 to support MoVal Meals, the City's supplemental nutrition program for seniors and residents with disabilities. He also donated 3,000 KN95 masks for use by MoVal Police and Fire.
"Moreno Valley is our community and our City," said Bartlett. "We at United Material Handling knew we had to help. I think everyone has a responsibility to do what they can to help in some way, and I hope other local businesses in a position to help find a way to do that."
MoVal Meals, a drive-thru and home-delivery service created to help seniors and disabled residents stretch their food resources, serves 500 people in need each week. And police and fire personnel rely on the safety masks in their roles as emergency first responders.
"On behalf of our brave police and fire personnel, and all the City employees and volunteers who run MoVal Meals, it's an honor to accept these generous donations," said Mayor Gutierrez.
Mayor Pro Tem Victoria Baca, whose City Council District 1 is home to UMH, lauded the company's sense of community. "UMH has embraced Moreno Valley since opening in 2018," she said. "I can tell you that the feeling is mutual. We deeply appreciate both the donations and the gesture."
For large donations or donation of materials, please contact Deputy City Manager Jackie Melendez at 951.413.3454 or jackiem@moval.org.
---
Negocio Local de MoVal Generosamente Dona Dinero Para MoVal Meals, y Máscaras KN95
Beneficiarán Personas Mayores, Discapacitados y Personal de Primeros Auxilios
Cuando el Alcalde Yxstian Gutiérrez invitó a los negocios locales que pensaran en formas en que podrían ayudar a apoyar a la comunidad de MoVal durante la crisis del coronavirus, Ryan Bartlett inmediatamente dio un paso adelante. Bartlett, el presidente y director ejecutivo de United Material Handling, Inc. (UMH), donó $3,200 para apoyar MoVal Meals, el programa de nutrición suplementaria de la Ciudad para personas mayores y residentes con discapacidades. También donó 3,000 máscaras KN95 para uso de la policía y bomberos de Moreno Valley.
"Moreno Valley es nuestra comunidad y nuestra ciudad," dijo Bartlett. "En United Material Handling sabíamos que teníamos que ayudar." Creo que todos tienen la responsabilidad de hacer lo que puedan para ayudar de alguna manera, y espero que otras empresas locales que estén en condiciones de ayudar encuentren una manera de hacerlo."
MoVal Meals, un autoservicio y entrega a domicilio creado para ayudar a las personas mayores y los residentes discapacitados a extender sus recursos alimentarios, atiende a 500 personas necesitadas cada semana. Y la policía y el personal de bomberos confían en las máscaras de seguridad en sus funciones como los primeros equipos de emergencia.
"En nombre de nuestro valiente personal de policía y bomberos, y de todos los empleados y voluntarios de la Ciudad que dirigen MoVal Meals, es un honor aceptar estas generosas donaciones," dijo el Alcalde Gutiérrez.
Vice Alcaldesa, Victoria Baca, cuyo Distrito 1 del Concejo Municipal es el hogar de UMH, celebró el sentido de comunidad de la compañía y dijo, "UMH se ha dedicado a Moreno Valley desde su apertura en 2018." "Puedo decirles que el sentimiento es mutuo. Apreciamos profundamente tanto las donaciones como el gesto."
Para donaciones grandes o donación de materiales, comuníquese con la Subgerente de la Ciudad Jackie Meléndez al 951.413.3454 o jackiem@moval.org.
# # #
Upon request, this news release will be made available in appropriate alternative formats to persons with disabilities, in compliance with the Americans with Disabilities Act of 1990. Any person with a disability who requires a modification or accommodation in order to participate in this meeting should direct such requests to Guy Pegan, ADA Coordinator, at 951.413.3120 at least 72 hours before the meeting. The 72-hour notification will enable the City to make reasonable arrangements to ensure accessibility to this meeting.