City Councilwoman Dr. Carla J. Thornton Honored with National Social Work Award
Congressional Research Institute for Social Work and Policy
Will Present Award in Washington, D.C.
For immediate release: February 27, 2020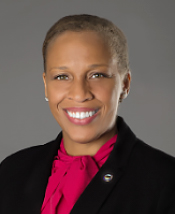 District 2 City Councilwoman Dr. Carla J. Thornton will be honored by the Congressional Research Institute for Social Work and Policy (CRISP) at its annual Social Work Day on the Hill advocacy event in Washington, D.C., with the Outstanding Individual in Government award.
Councilwoman Thornton was chosen in recognition of her combined work as a social worker, local elected official and faculty member at California Baptist University, with CRISP noting that, "Within one year of her transition to the faculty, Dr. Thornton developed the first Social Work in Political Office course and published a chapter on political social work. She is a force, emerging in the field to carry the next generation of social work professionals."
"My social-work background informs my work as a member of the City Council and vice versa," Thornton explained. "Government should work for the people -- all people -- and that's what social work is all about. I'm deeply honored to receive this award."
"The City Council and I are proud of the work Councilwoman Thornton does on behalf of her District 2 constituents and, by extension, for all Moreno Valley residents," said Dr. Yxstian Gutierrez, Mayor of Moreno Valley. "She combines a heart of gold with a spine of steel as she continuously works to make sure City government is making a positive difference in residents' lives."
CRISP will present Councilwoman Thornton with the award on Wednesday, March 11, at the Rayburn House Office Building on Capitol Hill.
# # #
Upon request, this news release will be made available in appropriate alternative formats to persons with disabilities, in compliance with the Americans with Disabilities Act of 1990. Any person with a disability who requires a modification or accommodation in order to participate in this meeting should direct such requests to Guy Pegan, ADA Coordinator, at 951.413.3120 at least 72 hours before the meeting. The 72-hour notification will enable the City to make reasonable arrangements to ensure accessibility to this meeting.