Moreno Valley to Host Five General Plan Update Public Workshops
Residents Urged to Learn About General Plan and Provide Opinions
For immediate release: February 25, 2020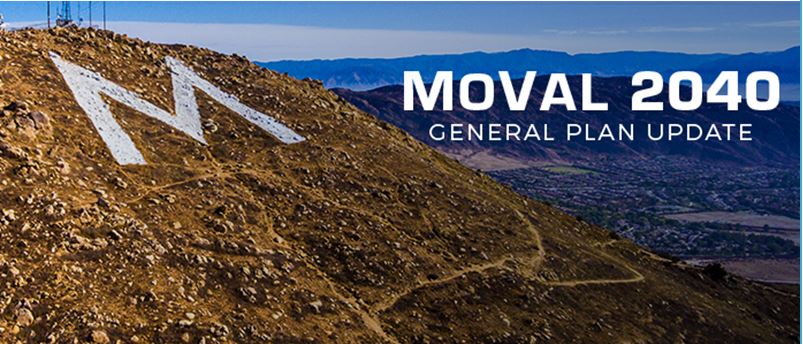 Regardless of whether a resident knows a lot or nothing at all about the City of Moreno Valley's General Plan or the updating process it's going through right now, all residents have opinions about what they like about their City, what they'd change, and the course the City should follow into the future. And at five upcoming General Plan Update public workshops, residents will be asked to share those opinions and help chart the course of development in Moreno Valley for the next 20 years.
The General Plan is the City's blueprint for how and where Moreno Valley will grow. It guides everything from economic development to transportation, from the type of homes available to open-space conservation, and from community gathering places to public health and safety. The current General Plan was crafted in 2006.
"The world and our City have changed a lot in the past 14 years," explained Dr. Yxstian Gutierrez, Mayor of Moreno Valley. "Our population has grown by about 50,000 residents since then and people have different opinions and priorities today. We want to reflect those changes in an updated General Plan, and we ask that residents try to imagine Moreno Valley 20 years from now."
To make it easier for residents to take part in the process, City planners have scheduled public workshops in each City Council district and one City-wide meeting at City Hall. The workshops will operate open-house style with residents free to move from one Information Station to another, gathering information and providing opinions about various components of the General Plan dealing with the topics of Land Use, Gathering Places, Getting Around, Dynamic Economy and Neighborhood Livability. Workshop attendees can visit stations in any order at any time, including before and after the introductory presentation, which will take place about 15 minutes into the two-hour events.
Upcoming General Plan Update workshops in each City Council district:
Residents can sign up for email notifications for General Plan Update meetings and events by emailing the City's Planning Division at chriso@moval.org or calling 951-413-3229.
# # #
Upon request, this news release will be made available in appropriate alternative formats to persons with disabilities, in compliance with the Americans with Disabilities Act of 1990. Any person with a disability who requires a modification or accommodation in order to participate in this meeting should direct such requests to Guy Pegan, ADA Coordinator, at 951.413.3120 at least 72 hours before the meeting. The 72-hour notification will enable the City to make reasonable arrangements to ensure accessibility to this meeting.