Mayor Gutierrez Moves Open Office Hours from City Hall into the Community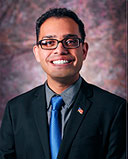 Mayor Yxstian Gutierrez holds regularly scheduled open office hours every other Friday, which continue through June. The meeting locations, however, will change each session in order to increase his accessibility throughout the community. The time frame remains unchanged, taking place from 3:30 p.m. to 5:30 p.m. The locations for each meeting will be reflected on the City's Community Calendar and announced prior to the meeting.
The Mayor's community open hours meeting this week, Friday, March 11th will be held at the Moreno Valley Senior Center located at 25075 Fir Avenue.
Mayor Gutierrez holds open office hours to increase and encourage face-to-face communication with residents and other community stakeholders. "Public input is the cornerstone of the democratic process," said the Mayor. "I look forward to meeting with residents and stakeholders to learn more about their vision and concerns in order to continue the positive momentum in our community."
These open office hours are in addition to his availability by appointment. For more information, please contact the City Council Office at 951.413.3008.
In compliance with the Americans with Disabilities Act of 1990, any person with a disability who requires a modification or accommodation in order to participate in this meeting should direct such requests to Guy Pegan, ADA Coordinator, at 951.413.3120 at least 72 hours before the event. The 72-hour notification will enable the City to make reasonable arrangements to ensure accessibility and participation.