Council Member Giba Hosts Town Hall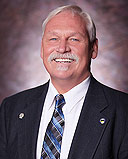 Moreno Valley Council Member for District 2, Jeff Giba is hosting a Town Hall event Saturday, August 15th, from 9 11:00 a.m., at Hangar Trampoline Park. Council Member Giba is looking forward to hearing from District 2 residents. Come ready to discuss any issue or concern.
"It is important to me for people to feel comfortable," says Council Member Giba. He looks forward to frequent informal, face-to-face communication with constituents in District 2 by providing a relaxed setting to share concerns, comments and opinions on items that affect the community.
Hangar Trampoline Park is located in the Canyon Springs Plaza at 12125 Day Street, Suite A 201.  RSVPs are not required.

Contact the City Council Office for more information: 951.413.3008.
Upon request, this agenda (notification) will be made available in appropriate alternative formats to persons with disabilities, in compliance with the Americans with Disabilities Act of 1990. Any person with a disability who requires a modification or accommodation in order to participate in this meeting should direct such requests to Guy Pegan, ADA Coordinator, at 951.413.3120 at least 48 hours before the meeting. The 48-hour notification will enable the City to make reasonable arrangements to ensure accessibility to this meeting.