Coffee with Mayor Pro Tem Dr. Gutierrez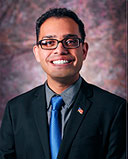 Moreno Valley Mayor Pro Tem Dr. Yxstian Gutierrez is hosting a coffee event Tuesday, June 23rd from 12 p.m. to 1 p.m. at Starbucks located at 25960 Iris Avenue.
Dr. Gutierrez would like to hear from residents in a comfortable setting to share concerns, comments and opinions on items that affect the community.  Residents unable to join him for coffee on Saturday are encouraged to call for an appointment.
Dr. Gutierrez is also available on the 4th Thursday of each month on a first come, first served basis from 3-5 p.m. in his office at City Hall.  Meeting time allotments will be in increments of 10 to 15 minutes.  The next meeting is scheduled for Thursday, July 23rd.
Contact the City Council Office for more information at 951.413.3008.
Upon request, this notification will be made available in appropriate alternative formats to persons with disabilities, in compliance with the Americans with Disabilities Act of 1990. Any person with a disability who requires a modification or accommodation in order to participate in this meeting should direct such requests to Mark Sambito, ADA Coordinator, at 951.413.3120 at least 48 hours before the meeting. The 48-hour notification will enable the City to make reasonable arrangements to ensure accessibility to this meeting.