Council Member Giba Hosts Town Hall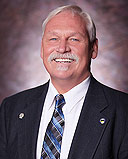 Moreno Valley Council Member for District 2, Jeff Giba is hosting a town hall event Sunday, May 31st at 3:00 p.m. at S Bar & Grill. Council Member Giba looks forward to increasing informal, face-to-face communication with constituents in District 2 to provide a comfortable setting to share concerns, comments and opinions on items that affect the community.
S Bar & Grill is located at 23579 Sunnymead Ranch Parkway in the Lakeshore Village shopping center. RSVPs are not required.
Contact the City Council Office for more information: 951.413.3008