Mayor Pro Tem Holds Walk-in Meetings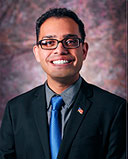 Mayor Pro Tem Dr. Yxstian Gutierrez has scheduled open office hours to increase and encourage individual face-to-face meetings with residents and other community stakeholders. Beginning Thursday, January 29th, Mayor Pro Tem Dr. Gutierrez will be available on the last Thursday of each month on a first come, first served basis from 3:00 p.m. to 5:00 p.m. in his office at City Hall. Meeting time allotments will be in increments of 10 to 15 minutes. These meeting hours are in addition to his availability by appointment.
Moreno Valley City Hall is located at 14177 Frederick St. For more information, please contact the City Council Office at 951.413.3008.