Senior Eats

The Senior Eats Program is Full
Qualified applicants can call the Senior Eats Hotline to be added to the interest list. If a spot becomes available, applicants to fill it will be chosen from the interest list.
Senior Eats Hotline: 951.413.3775 Monday – Thursday 8 a.m. – 4 p.m.
As a result of the Coronavirus, and the need to serve the City's most vulnerable population, the City has launched Senior Eats. Senior Eats is also delivering a mask package to seniors in this program.
About Senior Eats
Senior Eats delivers two nutritious restaurant meals a day to qualifying Moreno Valley seniors. This program has the added benefit of also providing essential economic stimulus for local businesses and workers struggling to stay afloat during the crisis.
The program will serve 150 seniors, 2 meals per day, 5 days per week, for 2 months.
Senior Eats is funded through the Great Plates Delivered program, a first-in-the-nation initiative announced by Governor Gavin Newsom.
How it Works for Restaurants
Requirements
Meals should be nutritional, low in sodium, and include a fruit or vegetable.

Restaurants will be responsible for delivery.  All delivery drivers must pass a background check.

Restaurants will invoice the City each Monday for the prior week for payment of weekly delivered meals. 
Signing Up
Restaurant owners who want to take part can apply online.
5-10 Moreno Valley small to medium-size restaurants will be selected to participate.   Restaurants will be chosen to provide either lunch or dinner meals each week. 
Questions?
Read the Frequently Asked Questions for Restaurant Partners.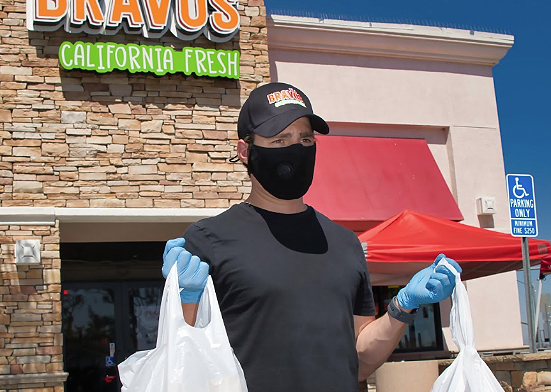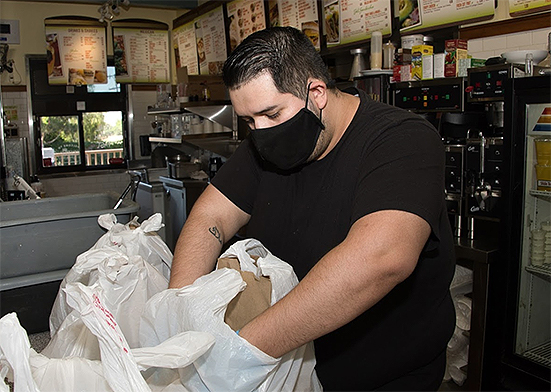 How it Works for Seniors
Eligibility
Must be MoVal resident
Must be 65 or older
High-risk seniors ages 60-64 (those who are COVID-19 positive or COVID-19 exposed as documented by a public health official or medical professional, or those with an underlying condition).

Must live alone or with one other program-eligible adult.
Must not be currently receiving other federal nutrition-assistance programs (Meals on Wheels, FSA, Home Delivered Meals, CalFresh)
Have an income between $24,981 and $74,940 for a household of one, or between $33,821 and $101,460 for a household of two.
Cannot receive concurrent assistance from MoVal Meals
Must affirm an inability to prepare or obtain meals.
Signing Up
Call the Senior Eats hotline  951.413.3775 Monday – Thursday 8 a.m. – 4 p.m.
Questions?