About Moreno Valley
Read the City of Moreno Valley's Mission Statement here.
Select a tab below to find information on demographics, history, City awards, and more.
Demographics
The City of Moreno Valley is among the fastest growing Cities in the Inland Empire with exciting new projects and services offered.
Incorporation

Incorporated as a General Law City on December 3, 1984, merging the communities of Moreno, Sunnymead and Edgemont.

Location, Size and Elevation

51.5 square miles, located in the western portion of Riverside County, surrounded by Riverside, Perris, March Air Reserve Base, Lake Perris and the Badlands. Elevation: 1,650 Ft.

City Motto

"People, Pride, Progress"

Form of Government

Council- Manager form of government Moreno Valley is governed by a directly elected mayor and a four-member elected City Council.
See current councilmembers and City Officials

Growth

Surpassing 214,000 in population, Moreno Valley is the second largest city in Riverside County and one of the fastest growing cities in the region. We understand that your success depends on connecting with consumers. Here's a sampling of information about Moreno Valley's residents, workforce, and culture.

Population

2021 Population Estimate: 214,982 (Claritas, LLC, 2020)
2020 Population: 208,634 (2020, U.S. Census)
2026 Projection: 223,374 (Claritas, LLC, 2020)
2010 Population: 141,643 (2010 U.S. Census)

Demographic
Profile

Population
• City population: 214,982; 20-mile population: 2,399,647
• 2nd largest city in Riverside County, 21st in California
• Median Age is 32.6
• Consumers: Plentiful, Youthful, & Driven

Education
• 78% High School graduates
• 47% College
• Three colleges (University of California Riverside, California Baptist University and Moreno Valley College) attract more than 45,000 students

Households
• 56,608 Households; 20-mile radius over 684,022 Households
• Average Household Size is 3.79
• Rate of Home Ownership is 64%

Workforce
• 104,000 workforce population; 20-miles radius offers 1,148,798
• White Collar Workers make up 50%
• Average Commute is 38 minutes

Employment Centers are Booming
• Home to numerous Fortune 500 and International companies
• Top 5 Employers include
- March Air Reserve Base
- Amazon
- Moreno Valley Unified School District
- Riverside University Health Systems Medical Center
- Ross Dress For Less Distribution.

Incomes are Up & Climbing
• Average Household Income $86,641
• Nearly 18,000 households earn more than $100,000
• Within 20 miles, 243,339 households earn more than $100,000


Amenities

Moreno Valley's amenities include: more than 540 acres of parks and trails, and 6,000 acres of open space at Lake Perris; recreational facilities, major medical, and educational facilities; quality housing at affordable prices, open spaces, abundant retail centers, industrial developments, social and cultural activities.

In 2021, the City opened the Civic Center Amphitheater creating an exciting new venue for community activities such as concerts and movies, in addition to serving as the premier home to marquee events like Day of the Dead, El Grito and Snow Day.

The City is also home to the M, an iconic collection of lights shaped as the letter M located on Box Springs Mountain. Visit moval.org/mschedule to learn more about or to schedule the M

Schools

Moreno Valley has two public school districts and a Community College:

Moreno Valley Unified School District has 23 Elementary Schools, 6 Middle Schools, 4 Comprehensive High Schools, 1 Adult School, and 9 alternative schools, with a total of 32,763 students enrolled Districtwide in the 2019-2020 school year.

Val Verde Unified School District (includes Perris, Mead Valley and Moreno Valley) has 22 schools with over 20,000students enrolled.

Moreno Valley is proud to be home to the 111th Community College in California. Moreno Valley College has approximately 104,000 students enrolled. For more information, please visit www.mvc.edu.
The History of Moreno Valley
An area once comprised of three rural communities, the City of Moreno Valley, incorporated in 1984, has twice emerged as one of the fastest growing cities in the US. While the City represents one of the most dynamic economic market potentials in contemporary California, this has not always been the case.
The First Inhabitants...
The initial inhabitants of the valley were American Indians, a renegade sect of the Shoshones. These early settlers dotted the area wherever springs or rivers provided water. They developed a pastoral culture nourished by a daily staple of acorn mush supplemented by any available game and edible insects. Rock "metate" bowls used to grind the acorns are still found around Moreno Valley, as are primitive rock paintings.
This was the setting found by the first explorers from Spain who, coming north from Mexico, established various routes to Northern California, setting out well-defined trails, and constructing numerous missions, many of which stand today for the enjoyment of thousands of tourists and history aficionados. One of these trails, the Anza Trail, passes in a northwesterly direction from San Jacinto through the former community of Edgemont, terminating at Alta, California.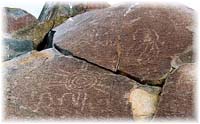 One of the members of Captain Anza's second expedition was Father Pedro Font. His diary describes the beauty of the land that was to become Riverside County, with its beautiful San Jacinto River, its fertile earth, and its profusion of growing grass and cottonwoods. It was a description that held for two centuries, and even now describes the overwhelming beauty of an area blessed by prospering farms, benevolent weather, and dynamic growth.
One Hundred Years Later...
Nearly a hundred years later, in 1850, California became a state and the large Spanish land grant of San Jacinto Nuevo Y Potrero became public land, developed by ranchers and traveled over by John Butterfield's legendary but short-lived Overland Mail Company. His Tucson-to-San Francisco stage, via San Diego and Los Angeles, opened up the Temescal approach to Los Angeles, passing through the oak groves of what is now Perris Valley, continuing through what is now Moreno Valley, and over Reche Canyon into Redlands.
In 1883, Frank E. Brown formed the Bear Valley Land and Water Company. Brown ("Brown" is "Moreno" in Spanish) built a dam at Bear Valley in the San Bernardino Mountains and contracted to provide water to the tiny, and new communities of Moreno and Alessandro. In 1891, the formation of the Perris and Alessandro Irrigation District increased the demands upon Bear Valley water, and resulted in litigation with the city of Redlands which claimed priority rights. Redlands won their suit in 1899. This compounded a period of drought which forced the failure of numerous farmers who had developed a strong agricultural base of deciduous and citrus fruit trees.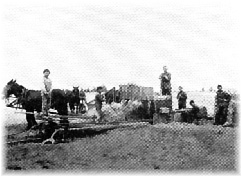 As a result of the loss of water delivery, the residents of Moreno Valley were forced to leave the area in search of a more livable environment. The more expensive homes were moved in their entirety by steam-powered tractors. Many of them were relocated to the city of Riverside. Others, stolen during the owner's absence, were relocated to parts unknown. By 1901, few people resided in the Moreno Valley, and those who remained turned primarily to the dry farming of hay, grain, and grapes. Mr. Brown had lost his dream, and the valley named after him remained as a reminder of an empire's vulnerability to such simple needs as water.
A New Element: March Field
1918 saw the construction of a new element in the valley's history: March Field. The military airfield was originally built on 640 acres of land purchased primarily from the Hendrick Ranch. March was established at a time when the United States was anticipating entry into World War I and was rushing to build up its military forces. March Field was first used to train fighter pilots; in 1922 the Field was closed, only to reopen again in 1927 as a flight training school. Later, March became a permanent military facility encompassing more than 7,000 acres. For more than 70 years, March Air Force Base enjoyed a long and active military history in the valley; at the height of its activity, the Base supported 85,000 troops.
In 1996, March -- home to the longest airstrip in Southern California -- was realigned as an Air Reserve Base, and is today poised for great economic growth involving public and private development.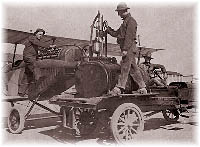 The base greatly influenced the growth of the valley. Sunnymead Boulevard was first paved in 1936, and only a few homes dotted the communities of Sunnymead and Moreno. Edgemont started its development in 1940. These three unincorporated rural communities comprised the Moreno Valley, under the governance of Riverside County.
The Valley Begins to Flourish...
Over the succeeding decades, the valley began to flourish. Developers purchased large parcels of land and began constructing houses and small commercial developments. Attractive land prices lured more developers, and below-market home prices attracted families searching for alternatives to "big city" life.
Growth was not limited to people, planes and produce. Recreation also became a focal point, not only through the natural opportunities of the nearby mountains and desert, but by the opening of such paramount attractions as the Riverside International Raceway in 1958 and Lake Perris Recreation Area in 1973.
Explosive Growth...
In the decade of the '80s, the valley experienced explosive growth, signaling the start of a major transition from rural life to urbanization. Housing construction escalated, and families from the major metropolises migrated by the tens of thousands. In a little more than a decade, the valley's population more than doubled from 18,871 residents in 1970 to 49,702 in 1984.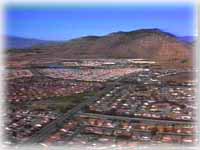 A City is Born...
The need for managed growth and the desire for self-governance served as the major impetus behind the movement to incorporate the three valley communities as an independent city. The notion was not immediately favored by voters. The incorporation effort failed in the 1968 election and again in 1983. In 1984, however, the voters of Edgemont, Sunnymead and Moreno overwhelmingly passed the measure, and a new city was born.
On December 3, 1984, the City of Moreno Valley was officially incorporated as a California general law municipality. The charter City Council was also elected that year: Bob Lynn, Judith A. Nieburger, Steven Webb, J. David Horspool (the first Mayor Pro Tem), and Marshall C. Scott (the first Mayor).

The City Seal was adopted by the new City Council in 1985. Dominated by the familiar Box Springs Mountain (with the distinctive "M"), the seal design is actually a composite of three winning entries from a citywide contest. The artists were: Robert J. Vasquez, Penny Fithian and Nancy Edwards. The City Motto, "People, Pride, Progress," was suggested by the League of California Cities.
The City Flag...
This new flag was unveiled on the 21st birthday of the incorporation of the city. It replaces the flag that was ordered by the City's first Finance Director Ann Marie Gallant in 1989. The flag is a full color replica of the City Seal, approved by then City Council consisting of Patty Goodwin, J. David Horspool, Cynthia Crothers, Judy Nieburger and Denise Lanning. It has been stored and maintained by the City Council staff and since that time displayed for ceremonial purposes at the League of California Cities Conference and at a variety of City functions.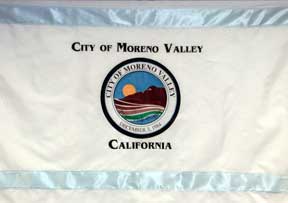 Weather
The City of Moreno Valley is located in a semi-arid region of western Riverside County just east of the San Bernardino Mountains and south of the San Gabriel Mountains. The average annual high temperature is 76 degrees with an average low of 49 degrees. A meager average of close to ten inches of rain falls in any given year. These conditions make the weather, on average, great for year-round outdoor activity. Gardening can be done year-round with only minimal threats of a frost in the winter months.
The table below shows the average high and low temperatures and precipitation by months throughout the year.
| | | | | | | | | | | | | | |
| --- | --- | --- | --- | --- | --- | --- | --- | --- | --- | --- | --- | --- | --- |
| | Jan | Feb | Mar | Apr | May | Jun | Jul | Aug | Sep | Oct | Nov | Dec | Year |
| Max Temp | 63 | 65 | 66 | 72 | 77 | 84 | 93 | 92 | 88 | 80 | 71 | 65 | 76 |
| Min Temp | 39 | 41 | 42 | 46 | 51 | 55 | 61 | 61 | 58 | 51 | 44 | 40 | 49 |
| Rain | 1.92 | 1.87 | 1.64 | .83 | .18 | .03 | .08 | .17 | .31 | .37 | .98 | 1.54 | 9.93 |
Winters in the City of Moreno Valley are mild with highs generally in the middle 60s with nights dipping into the upper 30s to lower 40s. On occasion there can be warm spells with highs jumping into the 70s and even lower 80s, as a warming wind descends the mountains to the north and east. On the other hand, there also are a few cold spells each winter when high temperatures barely make it to the 50s and nighttime temperatures drop close to the freezing point. Much of the yearly rainfall in the City of Moreno Valley occurs in the four months from December to March. Nearly 70% of the average annual precipitation occurs in these months. Despite that, many more days are rain-free in the winter than have rain, with sunshine and clean air allowing great views of the surrounding mountains. On occasion, from late October through March, "Santa Ana Winds" visit Moreno Valley and other parts of the Inland Empire. Santa Ana Winds are gusty, sometimes strong winds that blow from the north and northeast and generally last 12 to 36 hours. This wind event generally occurs between five and ten times a season.
The summers in Moreno Valley generally feature sunny, very warm to hot days and clear, mild nights with an afternoon and evening southwest breeze each day. The hottest months of July and August have average daily temperatures in the middle 90s with nights in the lower and middle 60s. The naturally occurring low humidity makes these months easier to tolerate than other parts of the nation with similar temperatures. On occasion from the middle of May through September an unusual hot spell can send afternoon temperatures well over the century mark. These hot spells typically last only a few days before cooling takes place. Rainfall in the months from May through September is quite unusual. On a rare occasion a "Monsoon" pattern develops. The Monsoon is when moisture moves up from the tropical regions of the Pacific and Gulf of Mexico bringing higher humidity that causes afternoon and evening thunderstorms over the mountains . Then one or two thunderstorms move out into the Valley from the desert.
The Spring and Fall months bring the most temperate time of year to the region. It is the season residents look forward to . Many days are still sunny and rain events are uncommon with high temperatures in the 70s and 80s and lows in the 50s .